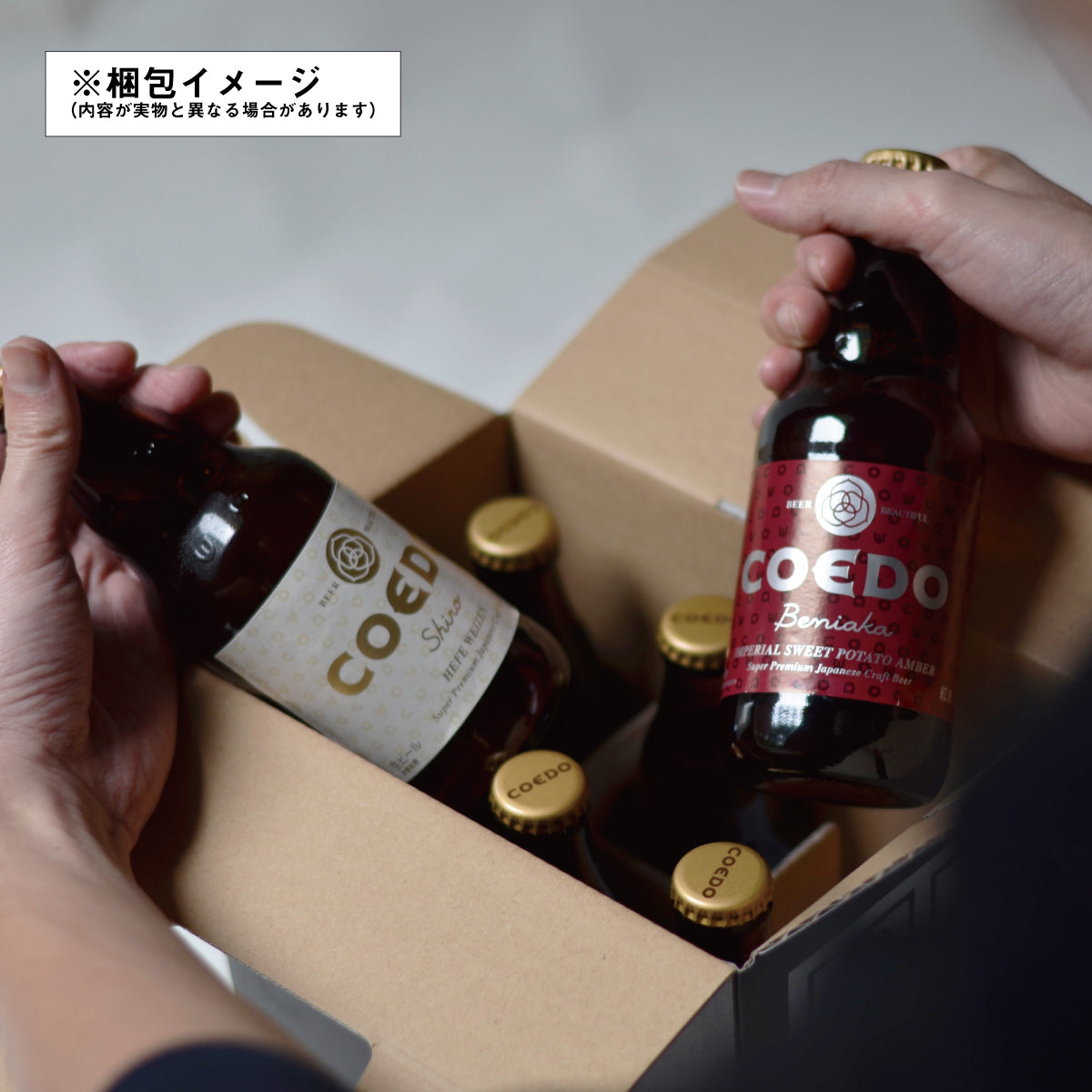 《2022年発売》【HORIGUCHI × COEDO】『克一黒-Kokuikkoku-』
---HORIGUCHI COFFEE & COED BREWERY Collaboration #5 Part 2!
The collaboration with Horiguchi Coffee started in 2018 with the concept of "creating products that let you feel the diversity of specialty coffee and craft beer".  
This is a collaboration series full of originality between COEDO and Horiguchi Coffee, in which craftsmen, roasters, and brewers from both companies demonstrate their craftsmanship to pursue the possibility of "new flavors" and challenge a different style every year.
In the past, some of the brands have won awards at the European Beer Competition (European Beer Star), one of the largest beer competitions in Europe.
This year, the fifth year of the collaboration, the beer style and coffee beans will be combined twice, once in summer and once in fall, to create the midsummer coffee ale "Kureoto" and the fall/winter coffee porter "Kokuikkoku".
>About Kokuikkoku
Kokuikkoku is black in color and has a robust mouthfeel, making it ideal for enjoying long autumn nights.
The Kokuikkoku combines a Kenyan "Kainamui Factory" French Roast, characterized by a flavor reminiscent of black fruits, with a "Porter" style beer.
The soft roasted maltiness of the two roasted malts and the full-bodied, complex fruitiness of the deep-roasted coffee beans blend with the sweetness of the coffee beans to create a gorgeous, rich flavor. The taste is rich and full with the sweetness of deep-roasted coffee beans. Please take your time and enjoy it with a good book or a cup of sake on a long autumn evening as the weather starts to cool down.
********************
HORICUCHI × COEDO] "Kokuikkoku
Ingredients: malt, coffee beans (Kenya "Kainamui Factory" French Roast), hops
Beer style: Coffee Porter
Alcohol content: 5.0%
Specifications: Bottle 333ml
Shelf life: 180 days from manufacture
********************
Due to limited quantities, double packaging will not be available.
Shipping Information
Please note
Please enter the expected delivery date and desired delivery time in the remarks column when you place your order.
Orders are usually shipped within 7 business days of placing an order. (Closed on Saturdays, Sundays, and holidays)
In the case of pre-ordered items, the order will be shipped within 7 business days from the scheduled shipping start date.

In the case of payment by convenience store or bank transfer, the order will be shipped after the payment is completed.
Packing and Noshi
Packing Information
We will affix the invoice slip directly to the product.
If you do not wish to have the invoice slip directly affixed, such as for use as a gift, please enter "double wrapping request" in the remarks column.
Double wrapping" means wrapping the product with plastic wrap and affixing the invoice slip on top.
About Noshi
Please specify at checkout if you wish to receive a noshi gift.
We do not offer message cards. Please understand.