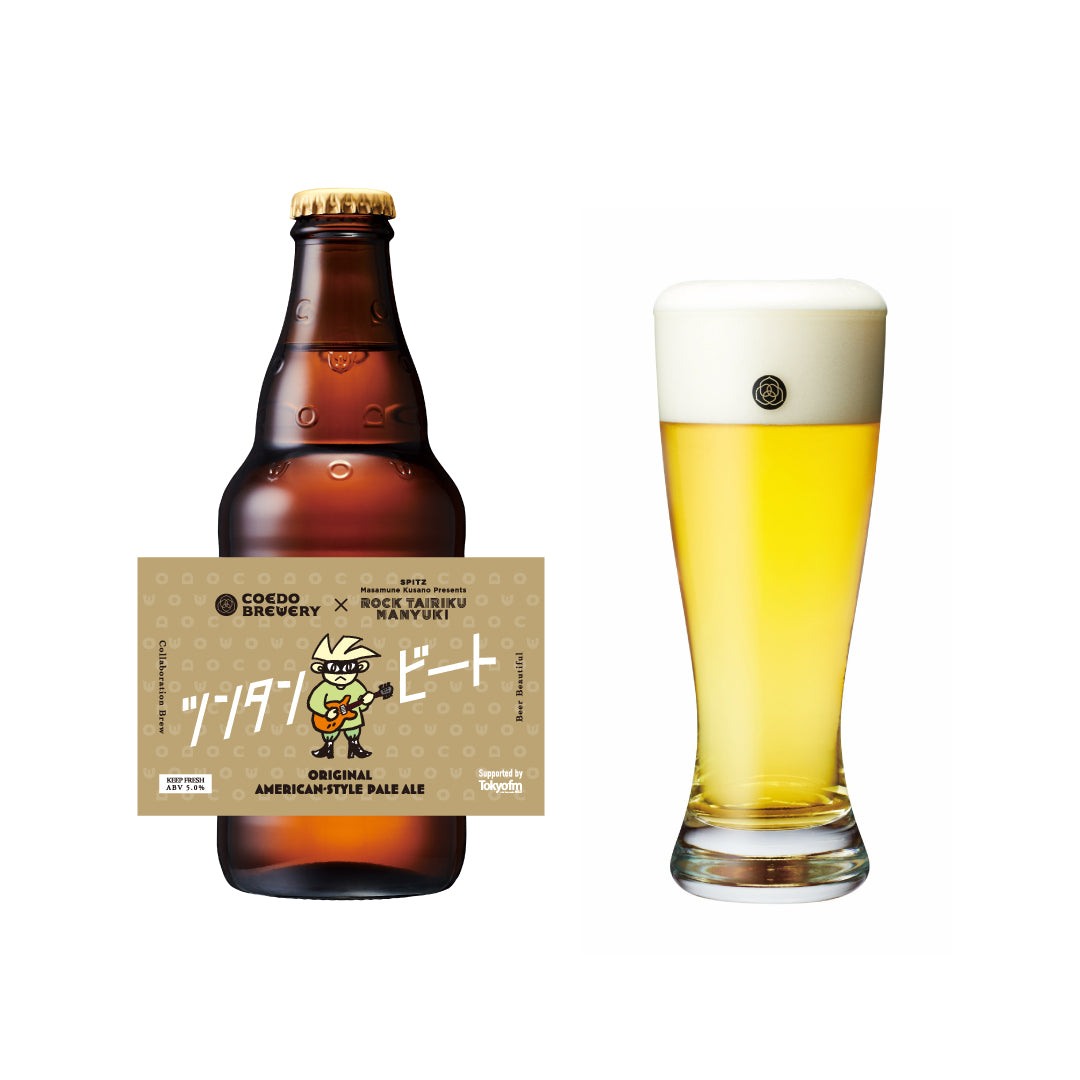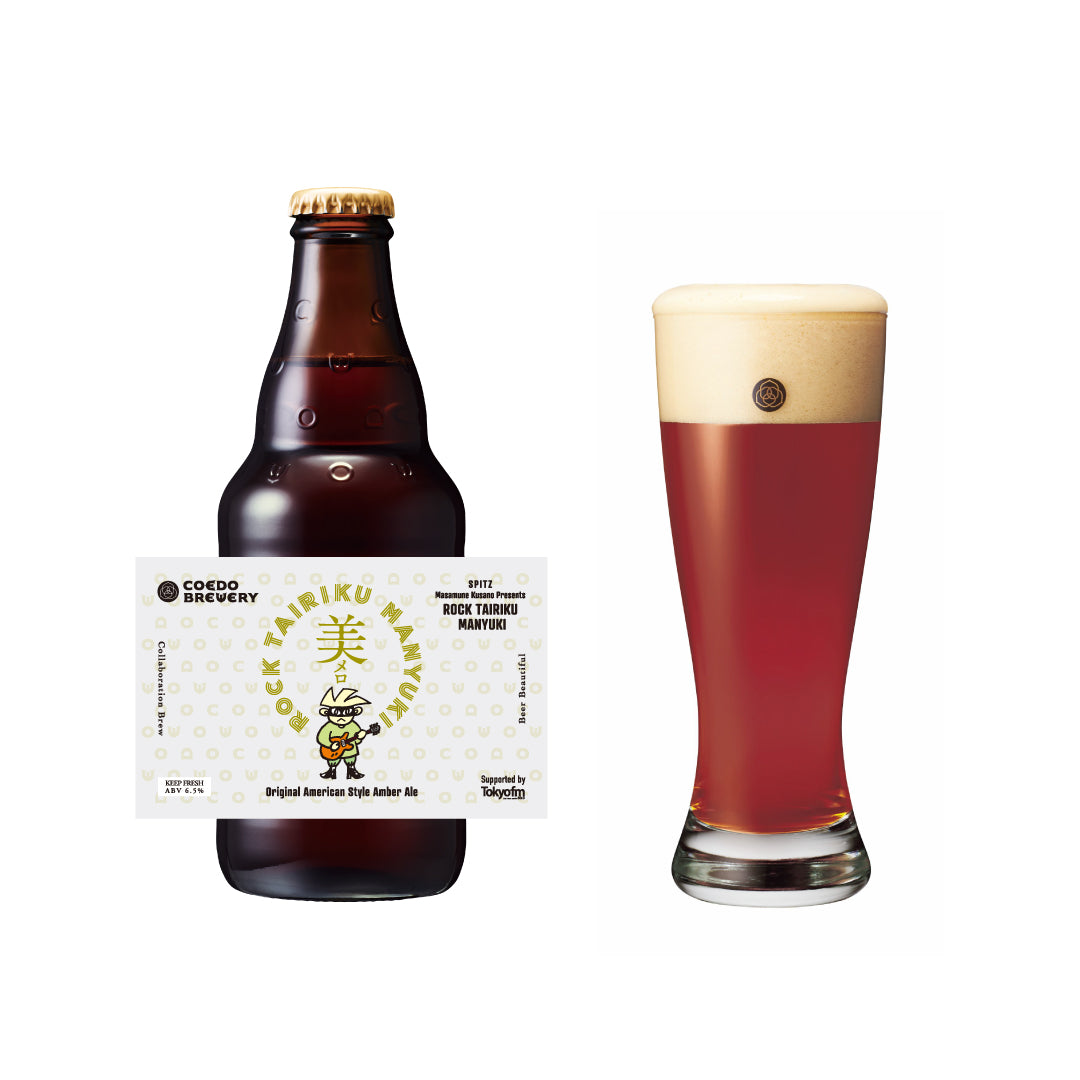 《2022年発売》【SPITZ 草野マサムネのロック大陸漫遊記 × COEDO】
We have received many requests for the re-release of this product and have decided to re-brew it!
Now Now accepting orders for the 3rd batch!
Tuntan Beet has been sold out by popular demand. There are only a few bottles of Bimero left. Please place your orders as soon as possible!
This beer is a collaboration with "SPITZ: Masamune Kusano's Rock Continent Mangyo-ki" broadcast on 38 JFN stations including TOKYO FM.

The strong connection between music culture and beer has led to a collaboration with "SPITZ Masamune Kusano's Rock Tairiku Mangyo-ki" (TOKYO FM/JFN), which is broadcast on TOKYO FM and 38 other JFN stations. The beers will be released with special labels featuring original characters written by Masamune Kusano!

Kusano selected "Tuntan Beat" and "Bimelo" from the archives of " SPITZ: Masamune Kusano' s Rock Tairiku Mangyo-ki". Based on the concept of the sound of these words, Mr. Kusano and the project team developed an image of the finished beer through a series of tastings, and together with COEDO's brewers, created an original recipe for the two beers.
The labels were specially designed with Masamune Kusano's original character "Rokucham," which is based on the image of a traveler's guide.
Tuntan Beat"
A single-hopped pale ale using only Strata hops, with aromas reminiscent of melon and strawberries. The soft sweetness from the malt is synchronized with the juicy, bouncy aroma of Strata hops reminiscent of tropical fruits, resulting in a drink that is up-tempo and drinkable just like Tuntan Beat.
Mimelo"
is a blend of six different malts, with a mild sweetness and richness derived from caramel malt, and a heavy taste created by a slightly higher alcohol content. This beer offers a harmony of rich yet gently fragrant hop aromas and a beautiful amber color.
Please enjoy this beer while listening to the radio program "Rock Tairiku Mangyuki", which is celebrating its 5th anniversary.
About SPITZ
SPITZ is a four-piece rock band consisting of Masamune Kusano (Vo/Gt), Tetsuya Miwa (Gt), Akihiro Tamura (B), and Tatsuo Sakiyama (Dr), formed in 1987, and made their major label debut in 1991.
In the summer of their 35th anniversary year, they held their first regular events in three locations across Japan in three years. Since then, they have continued to produce music, tour nationwide, and hold events at their own pace.
On October 19, their latest LIVE Blu-ray & DVD "Spitz Concert 2020 "Nekochigura no Yube"" and "SPITZ JAMBOREE TOUR 2021 "NEW MIKKE" will be released simultaneously.
The latest album is the 16th "MIKKE".
About "Rock Tairiku Mangyo-ki" (Rock Continent Mangyo-ki)
SPITZ's Masamune Kusano travels around the parallel world of the rock continent, using the radio as his vehicle and music as his map. To celebrate the 5th anniversary of the program, mug cups and original T-shirts are now on sale at TOKYO FM official mail order.
https://www.tfm.co.jp/manyuki/
https://shop.tfm.co.jp/categories/4707505

********************
SPITZ Masamune Kusano's Rock Continent Mangyo-ki x COEDO
Tuntan Beat
Ingredients: malt, hops
Beer Style: Original American Style Pale Ale
Alcohol Content: 5.0%
IBU: 20.3 (IBU is an international unit for beer bitterness)

********************
Bimero
Ingredients: malt, hops
Beer style: Original American Style Amber Ale
Alcohol Content: 6.5
IBU: 32.5 (IBU is an international unit of bitterness in beer)
********************
This product includes the cost of the box and setup fee.
Shipping Information
Please note
Please enter the expected delivery date and desired delivery time in the remarks column when you place your order.
Orders are usually shipped within 7 business days of placing an order. (Closed on Saturdays, Sundays, and holidays)
In the case of pre-ordered items, the order will be shipped within 7 business days from the scheduled shipping start date.

In the case of payment by convenience store or bank transfer, the order will be shipped after the payment is completed.
Packing and Noshi
Packing Information
We will affix the invoice slip directly to the product.
If you do not wish to have the invoice slip directly affixed, such as for use as a gift, please enter "double wrapping request" in the remarks column.
Double wrapping" means wrapping the product with plastic wrap and affixing the invoice slip on top.
About Noshi
Please specify at checkout if you wish to receive a noshi gift.
We do not offer message cards. Please understand.