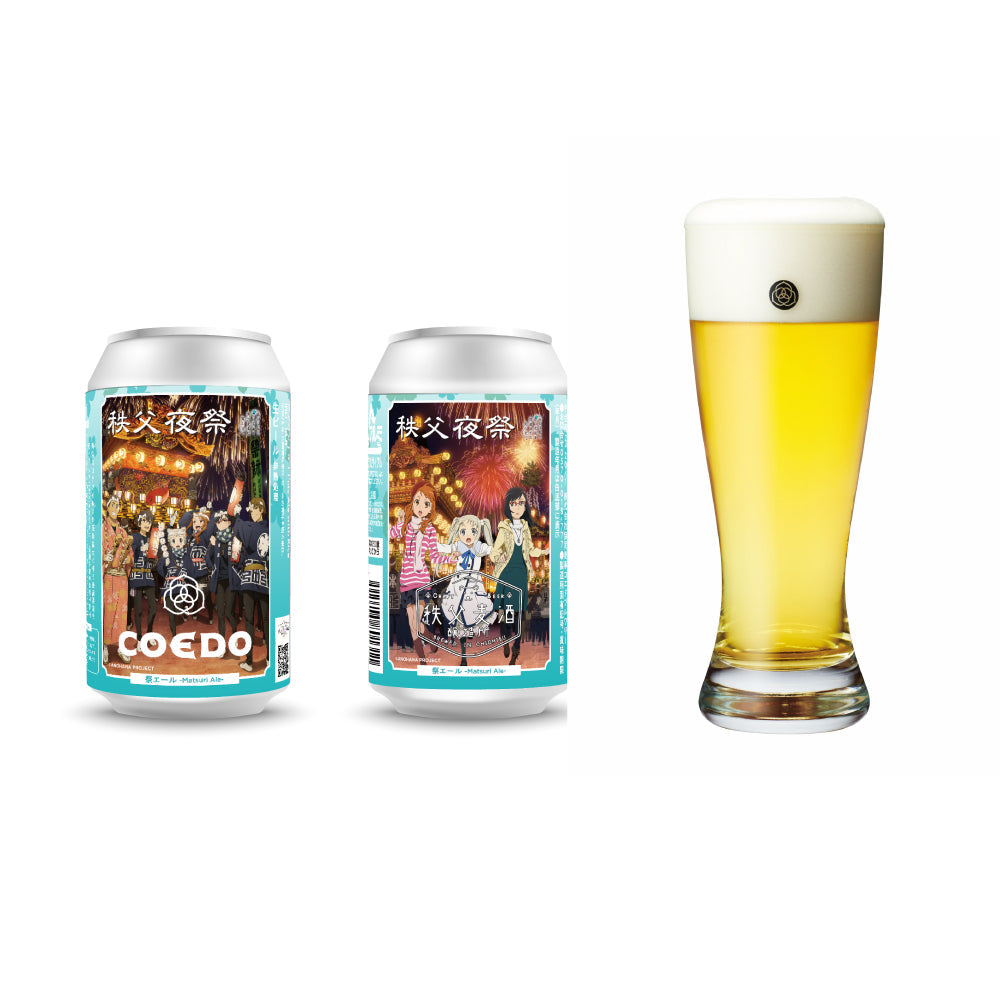 《2021年発売》【秩父麦酒×COEDO×あの花】『秩父夜祭エール』
The bright, pale golden color, clean bitterness, and soft aroma of traditional European noble hops, along with the refreshing taste of rice, have made Matsuri Ale very popular.
Following Kawagoe and Tohoku, "Chichibu Night Festival" is the third Matsuri Ale to join the project.
This is the first Matsuri Ale Project collaboration with Chichibu Beer (GK BEAR MEET BEER), a brewery that has a close relationship with COEDO, but this is actually the first time they have collaborated. By sharing our knowledge with each other, we are able to deliver a more refined version of our festival ale.
The label is inspired by the Chichibu Night Festival from the popular anime "Ano Hi Mita Hana no Namae o Bokutachi wa Mada Shiranai. The design is inspired by the Chichibu Night Festival of "Ano Hi Mita Hana no Namae o Bokutachi wa Mada Shiranai. This year marks the 10th anniversary of the film's release, and the collaboration with the "Chichibu Night Festival Ale Project" will further enliven the region.
********************
Chichibu Beer × COEDO × Anohana] "Chichibu Yoru Matsuri Ale" (to be released in 2021)
Ingredients: malt, rice (Sai no Kizuna), hops
Beer style: Pale Ale with Rice
Alcohol content: 5.0%
Specifications: 350ml can
Shelf life: 180 days from manufacture
Stated on the bottom of each can
Storage method: Keep in a cool dark place out of direct sunlight
********************
Chichibu Night Festival" and "COEDO Yell Project"
The Chichibu Night Festival is a famous Shihan festival in Chichibu City and one of the three major Hikiyama festivals in Japan, along with the Kyoto Gion Festival and the Hida Takayama Festival, as an annual festival of Chichibu Shrine. Records of the festival's existence date back to the Edo period (1603-1867), and its 300-year history continues to be preserved and attracts many people.
 Coedo Brewery has launched the "COEDO Yell Project" to support festivals that have been canceled throughout Japan, with the Kawagoe Festival being the first festival to be held. In order to send YELL (ale) to the Chichibu Night Festival, one of the most famous Hikiyama festivals in Japan, we have brewed a special ALE beer with the theme of local rice, which is one of the manifestations of the spirituality towards the festival.
We will donate 20 yen per bottle for the festival.
About Chichibu Beer
Chichibu Beer (Godo Kaisha BEAR MEET BEER), located in Yoshida, Chichibu City, northwest Saitama Prefecture, rented a former sake brewery bottling plant in 2017, and its president and brewmaster, Kodai Tan, spent about a year renovating it himself into a brewery, which started brewing in October 2017. The brewery's goal is to brew "barley wine that can heal people," and the brewery places importance on making people fall in love with it through their senses.
▽"We still don't know the name of the flower we saw that day." About
An original animation broadcasted in 2011. The "Chouheiwa Busters", a group of six men and six women who were good friends in their childhood, are separated after one summer. The story depicts the struggles of each of them, and has been loved by many people for a long time.
Production: "Anohana" Production Committee (A-1Pictures / Fuji Television Network, Inc.)
Matsuri Ale - On the release of Matsuri Ale
 It never occurred to me that our lives and work would be so affected by the plague in modern Japan.
I am sure that many people are feeling a sense of stagnation, frustration, and loss under this "new normal" environment.
 We wondered if there was anything that we, as a community-based craft brewery, could do to help in some small way.
I believe that beer has a magical power to connect people.
 We hope that everyone will enjoy the beer with a smile on their faces.
 We sincerely hope that this year's festival will be a success.
(Shigeharu Asagiri, President, Coed Brewery, Kyodo Shoji Co.)
Shipping Information
Please note
Please enter the expected delivery date and desired delivery time in the remarks column when you place your order.
Orders are usually shipped within 7 business days of placing an order. (Closed on Saturdays, Sundays, and holidays)
In the case of pre-ordered items, the order will be shipped within 7 business days from the scheduled shipping start date.

In the case of payment by convenience store or bank transfer, the order will be shipped after the payment is completed.
Packing and Noshi
Packing Information
We will affix the invoice slip directly to the product.
If you do not wish to have the invoice slip directly affixed, such as for use as a gift, please enter "double wrapping request" in the remarks column.
Double wrapping" means wrapping the product with plastic wrap and affixing the invoice slip on top.
About Noshi
Please specify at checkout if you wish to receive a noshi gift.
We do not offer message cards. Please understand.